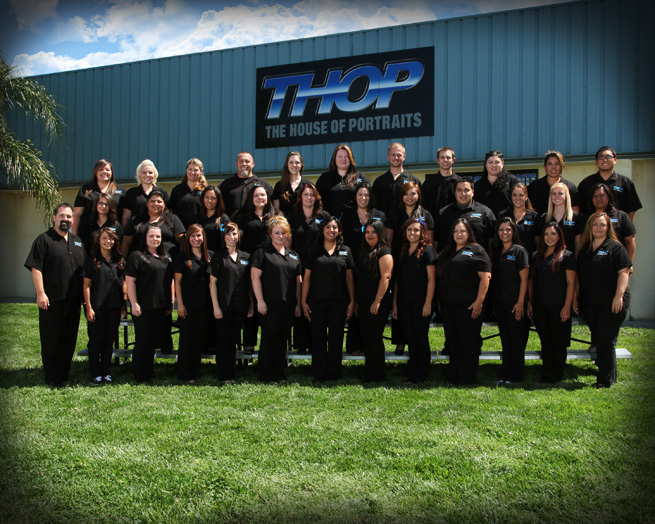 For nearly 40 years The House of Portraits has been considered one of the premier photography studios in the Inland Empire. Since it's inception in 1975, we have grown from a "Mom and Pop Shop" to one of the largest school and sports photography businesses in Southern California.
A family business, The House of Portraits has served hundreds of thousands of families over it's many decades of business throughout the region. From small family day-care centers and leagues of a few hundred players, to 2000 student schools and 3000 to 4000 player sports leagues, we strive to provide quality portraiture to all of our clients and customers.
After 26 years of service to the Inland Empire through The House of Portraits, Roger and Bernadyne Adams passed the torch over to their son and daughter-in-law in February, 2001. Greg and Lynn Adams had over a decade of experience with the studio, and knew the ins and outs of both the technical and artistic sides of the trade, as well as the managerial/business side.
Greg and Lynn launched the studio into the 21st century with the implementation of digital technology– a decision which has given their clientele benefits such as instant previews, digital manipulation, online ordering, and much, much more! As technology and client / customer needs change, so does The House of Portraits, or THOP for short. In 2005, THOP began printing and producing all of it's products and services in-house. By doing this, THOP has achieved total autonomy and is able to control the quality and consistancy of it's prints and services.
As an ever-changing, fully digital studio THOP prides itself as frontrunners in today's photography technology. Offering products and services never thought possible by it's founders so many years ago. Greg and Lynn embrace this change and go to great lengths to provide customers with the very latest amenities that digital photography has to offer. With an increasing desire to lessen it's carbon footprint, THOP strives to use technology in order to achieve this goal. By using recycled materials and recycling any waste produced by it's production THOP is "cleaner" and "greener" than ever!
With the customer base growing each year, and the profile of the business constantly expanding, Greg and Lynn Adams are continuing right where Roger and Bernadyne left off over a quarter century ago, bringing quality and affordable photography to as many families as possible. Now serving schools, sports leagues, and families from Northern California to San Diego, The House of Portraits is a true staple in their community as well as throughout the Inland Empire.
Our goal is to provide the best quality portraits at an affordable price. Our customers are always our first priority because, after all, we are the only business that provides you with a product that you will never throw away or replace.
Greg Adams, Owner